Workers in 62 poor districts nationwide are to be given favorable conditions to be sent abroad for work under a Government labor export program, which aims to send about 10,000 people abroad for work in 2010, deputy head of the Department of Overseas Labor Management, Hoang Kim Ngoc, said.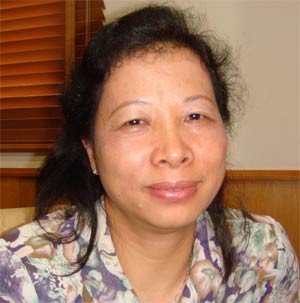 Ms. Hoang Kim Ngoc, deputy head of the Department of Overseas Labor Management, says her agency aims to send 10,000 workers abroad for work next year (Photo: SGGP)
Talking to Sai Gon Giai Phong, Ms. Ngoc said the State will pay most of the costs related to labor export for workers in poor districts, including food, accommodation, vocational and foreign language training and labor export fees.
Even in cases where workers have to return home ahead of term due to economic problems, the Government will pay their airfare.
The Government will also grant loans to workers who want to be sent abroad for work.
Loans will be granted various rates depending on where they go.
For example, a loan of VND30-40 million can be made to those who will be sent to Malaysia and a VND100 million loan offered to people sent to Japan.
In the last three months, more than 2,000 people from 62 poor districts have registered for work overseas.
Of these, 1,700 are qualified and most of them have been trained. One hundred of those registered recently left the country to work.
Some overseas workers, including those from central Quang Ngai Province can remit VND2 million per month to their family in Vietnam.
There have been signs of recovery of some overseas labor markets, such as Libya, Malaysia and the UEA, Ms. Ngoc said.
However, labor exporting is facing two main difficulties, she said. The first is that the labor market has shrunk due to the global economic crisis. The second is low education levels of candidates for labor export, with as much as 65 percent of people in poor districts having no education past junior high school education.
In addition, people in poor districts tend to get married early than other sections of society, so they are afraid of leaving their families, she added.
To improve the situation, the Government will provide labor exporters with incentive loans to help them expand investment in training courses for candidates with poor education, she said.
On the other hand, to enhance the quality of labor exports, relevant agencies will strengthen control over the field.  The ultimate goal of the program is to help poor people step out of poverty, so only labor export contracts of high feasibility and efficiency are allowed to be carried out, she said.
She emphasized that businesses violating regulations on labor exports or fail to protect the legitimate rights and interests of workers will be punished.