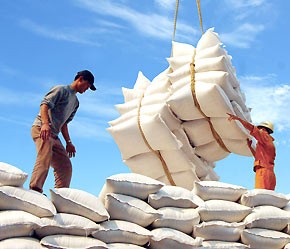 This undated file photo show Vietnamese rice loaded onto a ship for export
Vietnam's exports this year are estimated to be US$56.5 billion, a fall of 9.9 percent from 2008, the Ministry of Industry and Trade said.
A ministry report showed that this decrease was low in comparison to what seen in Japan, Thailand and China.
According to the report, Japan saw a 36% reduction in exports this August and it was the 11th month of decrease in a row. China's exports dropped by 23%, and it was the 8th consecutive month of reduction.