It is impossible to make accurate reports about loss and damage caused by Vedan to local farmers and environment by July 10, as requested by the Vietnam Environment Administration (VEA), said officials at a meeting July 2.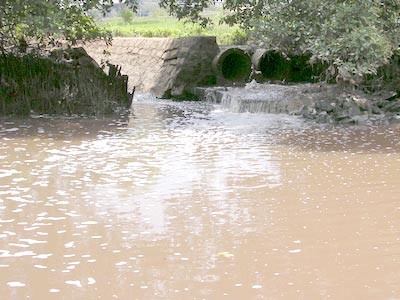 (Filed photo) One of Vedan's drainage pipes that directed untreated wastewater into Thi Vai River
The meeting was to work on the deadline, set by the VEA, for relevant authorities to submit detailed reports on loss and damage caused by Vedan's discharge of untreated waste into the environment.

Officials taking part in the meeting all agreed that the deadline, July 10, was inappropriate, as it gave them less than one month to fulfill their task, while they have had to deal with thousands of farmers' claims for damages.

They therefore asked the VEA to extend the deadline until August 31.

At the meeting, the HCM City Farmers' Association revealed that it has so far received more than 1,150 claims for damages from farmers in Can Gio District, demanding Vedan to pay VND325 billion (US$18.3 million) as compensation.

The meeting was jointly organized the HCM City Farmers' Association, the Department of Agricultural and Rural Development and Can Gio District People's Committee.

Vedan is a Taiwanese MSG producer, which was found to have allowed untreated waste from its plant run into the nearby Thi Vai River running through Ba Ria Vung Tau and Dong Nai provinces.