The Department of Livestock under the Ministry of Agriculture and Rural Development on January 27 said that extreme cold wave conditions in the first 15 days of January killed about 520 cattle in the northern region.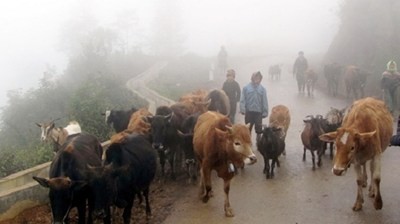 Extreme cold wave conditions have killed hundreds of cattle in the northern region in the first half of January (Photo: anninhthudo.vn)
Bac Kan Province reported 150 dead cattle while Cao Bang Province lost 100.
Cattle died because residents did not prepare sufficient stocks of feed and let them to pasture out on open fields.
From last January, livestock numbers have dwindled by four percent.