A lot of little toddlers and young children are being rushed to hospitals recently in Ho Chi Minh City due to extreme fluctuation in weather, with temperatures dropping at night and early mornings to scorching at noontime.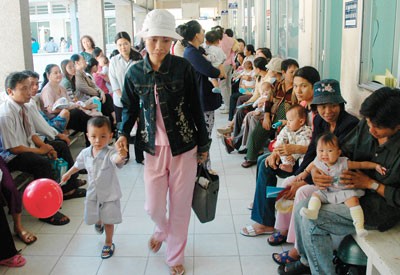 Parents wait their turn in Children Hospital No.2 in HCMC (Photo: SGGP)
According to Nguyen Thi Le Thuy, a doctor at Children Hospital No.2, the number of children coming for health checks and treatment has increased by 400-500 a day compared to before the Tet holidays.
Respiratory and digestive system problems are on the rise, causing overloading in medical facilities.
In February, more than 5,500 children went to Children Hospital No.2 for health checks or treatment of digestive problems, and 1,400 were hospitalized for respiratory ailments.
Children Hospital No.1 is also receiving about 5,000 children a day. Corridors and stairs are crowded with parents with sick children, mostly with respiratory and digestive problems.
According to doctors at the two hospitals, the weather has been the main culprit in the last few days-- for causing children to fall ill. 
In related news, the Pasteur Institute in HCMC said that the southern region recorded eight deaths from dengue fever this year, an increase of five cases over the same period last year.