The Ministry of Natural Resources and Environment has reported that as of now, 270 enterprises in 40 cities and provinces nationwide remain as serious environmental polluters.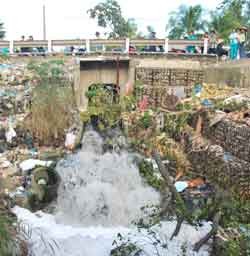 HCM City's Ba Bo Canal is one of the city's hot spots for pollution.(Photo:VNA)
In 2010, the Environment Protection Agency had checked production activities in villages, enterprises and industrial (IZs) and export processing zones (EPZs) operating along Dong Nai, Nhue, Day, Han and Huong rivers.
The agency had discovered 439 enterprises that were seriously polluting the environment. However, 312 enterprises are no longer causing pollution and 127 of them are repairing their waste treatment plants.
In addition, the inspection team also discovered more than 409 enterprises located along river valleys in 40 cities and provinces that were continuing to cause pollution.
According to the Ministry of Planning and Investment, there are 200 IZs and EPZs nationwide on a total area of 71,394 hectares. There are 173 IZs and EPZs starting operations, yet only 105 IZs and EPZs have wastewater treatment plants. The remaining are in the process of constructing such plants. Some wastewater treatment plants in industrial zones are ineffective, causing release of wastewater into the environment.
In Ho Chi Minh City, relevant authorities have just discovered and penalized 6 IZs and EPZs, whose wastewater discharge was found to exceed permitted limits.They were ordered to make sure their waste treatment plants met with required standards within 30 days.
According to inspectors, though the IZs and EPZs are equipped with central water-treatment facilities, most of them discharge more than 1,000 cubic metres of ineffectively treated wastewater daily.
However, the Ho Chi Minh City Department of Natural Resources and Environment believes that it is not entirely possible to impose very tough penalties like shutting down factories or revoking licences given the hundreds of thousands of factories operating nationwide.