In an unannounced visit to Lien Chieu Industrial Zone in Da Nang City on Thursday, the environment inspectorate caught the Cosani Sanitaryware Company dumping untreated wastewater into the Cu De River.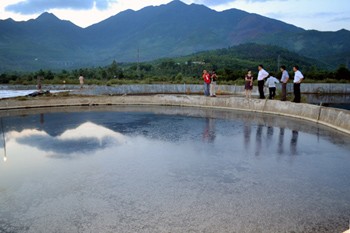 The wastewater treatment plant reservoir in Lien Chieu IZ in the central city of Da Nang (Photo: Thanh Nien)
The inspectorate team included officials from the Ministry of Natural Resources and Environment and from the Environment Crime Prevention and Fighting Police.
They also uncovered an open sewer pipeline in the vicinity of the Industrial Zone which was spewing out black, grimy and stinking wastewater directly into the Cu De River.
The team has collected samples of the wastewater for testing and analysing, before deciding on a course of action.
According to Luong Duy Hanh, chief inspector from Vietnam Environment Administration, 17 businesses at the Lien Chieu Industrial Zone are discharging an average of 400-500 cubic metres of wastewater every day.
However, the wastewater flowing into the zone's wastewater treatment plant is only 150 cubic metres per day.