With price of rice continually falling and irrigation canals unable to provide water for the paddy fields, many farmers in the Mekong Delta province of Ca Mau have switched to shrimp-breeding instead.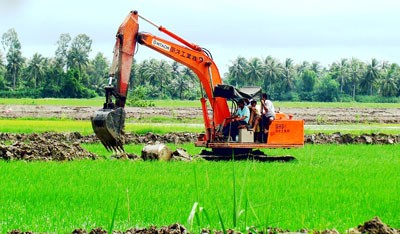 Farmers convert paddy field into shrimp ponds (Photo: SGGP)
The Mekong Delta had adopted a new model plan for large paddy fields to save costs and increase productivity.
However, due to falling rice prices these days, farmers converted their paddy fields into shrimp ponds despite local government warning.
Nguyen Thanh Hung, chief of village No.2, said the locals in the south of the village breed shrimps while people in the north cultivate rice and Ngang Canal has to provide water for both shrimp breeding and rice cultivation but is unable to do so.
Accordingly, there is conflict between people in the south and the north. Such a situation also takes place in other communes such as Kinh 5B, Dau Nai village in Tan Phu Commune of Thoi Binh District and Khanh Hoi Commune in U Minh District.
The government has fined upto VND2million to farmers who converted paddy fields into shrimp ponds.
Lam Thi Truc Mai, Deputy Head of the People's Committee in Tan Loc Bac Commune is worried if government cannot find ways to discourage this situation in time, it will break the planning of larger paddy fields. Under the plan, around 167 hectares of farm land in villages 1, 2 and 4 will join in collectively.
The local government of Tan Loc Bac Commune has petitioned many times to spend more in irrigation projects, pumping stations and drainage systems so as to benefit rice cultivation; but the petition is still just on paper.