Mango farmers in Mekong Delta provinces of Tien Giang and Dong Thap have loosen because of rumors saying that use toxic Taiwanese-made bags to wrap their fruits before harvest.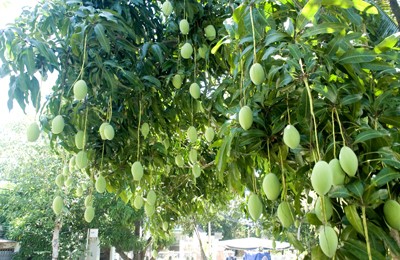 Mango trees in Mekong Delta
Consequently, mango prices have slumped 50 percent since last month and agricultural agencies have hardly encouraged farmers to use plastic bags to wrap fruits for safety, said Deputy Director of the Department of Agriculture and Rural Development in Tien Giang Cao Van Hoa.

Agriculture official in Tien Giang province's Cai Be District Nguyen Van Thanh said that the rumor is totally false.

Wrapping mango with plastic bags to improve productivity have been proved by scientists, he said.

Deputy President of the Southern Fruit Research Institute Dr. Vo Huu Thoai said that wrapping fruits before harvest is a modern technique used widely around the world to protect the fruits from pests, birds, and diseases and keep the skin color bright.

Additionally, wrapping fruits with bags also helps to limit the effect of insecticides on the fruits and makes them ready for consumption, he added.

It is also a measure to protect the fruits before exporting the fruits , he said.