A woman in the central province of Quang Binh has two children who were born with deformity on their feet, each having extra toes, which compels them to walk barefoot even in winter.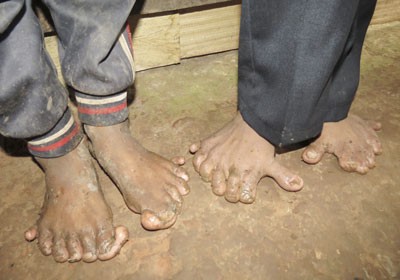 Ho Kec and Ho Cao have extra toes on their feet (Photo: SGGP)
Ho Thi Keo from Ka Ai Village in Dan Hoa Commune of Minh Hoa District has two children, Ho Kec, 7, and Ho Cao, 13, each born with seven toes  on their feet.
Due to this abnormality, they neither can wear slippers nor has to walk barefoot, even in cold weather.
In addition to abnormal feet, Ho Kec has six fingers on his hands and an abnormal chest. For these reasons he suffers an inferiority complex and does not want to go to school.
 
His brother, Ho Cao, on the other hand overcame his inferiority complex and is studying in school. His feet are so big that he could not even wear the giant slippers that reporters gave him.
 
Their mother too has very big feet and the family have to walk barefoot even in cold weather.