Fan Yang, the Canadian - Vietnamese bubble artist will perform in Ho Chi Minh City at a charity event for the Sai Gon Giai Phong program, "Nghia Tinh Truong Son" (Sentimental Attachment for Truong Son Road).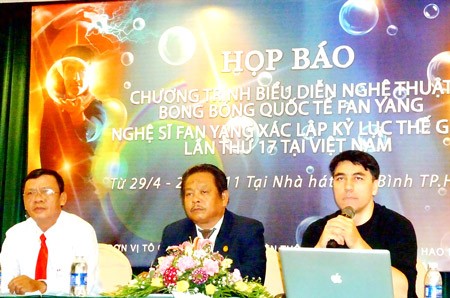 Bubble artist Fan Yang (extreme R) at the press conference. (Photo:SGGP)
Sai Gon Giai Phong Newspaper held a press conference on March 23 to introduce the Mega Bubble show. This is the first show to be performed in the city.
According to the management board, the show will be performed from April 29 to May 2 at Hoa Binh Theatre.
At the press conference, artist Fan Yang said that all money collected from the sale of tickets on the first day of the show will be donated to SGGP's charity program.
Price of tickets is from US$10-50.
Fan Yang was born to a Hungarian father and a Vietnamese mother in 1962 in the northern port city of Hai Phong. In 1964, he moved to Yugoslavia with his father and took up bubble blowing at the age of six, before finally settling in Canada.
Since 1982, Fan Yang has travelled around the world entertaining audiences and has acquired 16 Guinness world records for bubble blowing performances.

The management board is offering 500 tickets to good students in the city on the website: www.fanyangbubbles.com