The Food and Agriculture Organisation of the United Nations (FAO) will offer 2.7 million USD to help Vietnam develop its capacity in forest and tree resources assessment over a period of three years, starting from this year.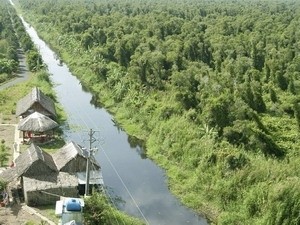 Ca Mau world biosphere reserve (Source: VNA)
An agreement to this effect was signed by Deputy Minister of Agriculture and Rural Development Hua Duc Nhi and FAO Representative in Vietnam Yuriko Shoji, in Hanoi on March 4.
The National Forest Assessment project is part of a global programme entitled "Sustainable Forest Management in Changing Climate" launched by FAO. It will cost a total of almost 3.2 million USD, of which 489,300 USD will come from the Vietnamese side.
The project aims to enhance the capacity of the Vietnam Forestry Administration, especially the Forestry Inventory and Planning Institute, and to introduce new and appropriate technologies.
At the same time, it will help Vietnam in reviewing forest inventory parameters again emerging national and international reporting requirements, harmonising and updating the information on forests and trees and reviewing the forestry policy in the light of results from the forest resources assessment.
According to Deputy Minister Nhi, the project will contribute to meeting the country's demand for sustainable forest management, as well as efforts to cope with adverse impacts of climate change and protecting biodiversity, while it will also practically celebrate International Year of Forests, 2011 launched by the United Nations.