Farmers in Don Duong District of Lam Dong, a mountainous province in the Central Highlands region of Viet Nam, can save on labor costs thanks to a seeding machine invented by a 33-year-old Vietnamese farmer who has just finished the eighth grade.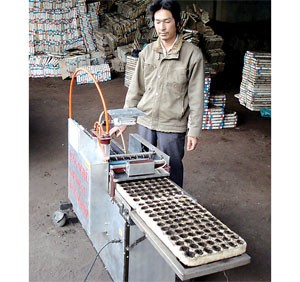 Nguyen Ngoc Chuong next to his seeding    machine
After two years of working on his dream of inventing a machine to reduce the workload of farmers, Mr. Nguyen Ngoc Chuong of Don Duong District has successfully produced a high-capacity seeding machine.  Chuong  spent two months on studying materials and on trials.
Chuong has created accessories and equipment for his seeding machine from unused agricultural machines.
According to Chuong, his seeding machine operates based on the principle of the compressed vapor in a vacuum suction flask. The machine can be used for sowing vegetable and flower seeds and seeds of agricultural trees on foam-rubber trays in accordance with modern sowing techniques.
The machine can run at a capacity of 230 trays an hour, equal to the productivity of 12 people sowing manually and it consumes only 0.5 kW.
Chuong has already sold five seeding machines to the local farmers and is manufacturing an additional ten.
Chuong's seeding machines work much more effective than the Australian-made ones, according to farmers in Lam Dong.
They pointed out that there are now four Australian-made seeding machines in the province. They can seed only 120 to 130 trays in one hour and but consume up to 5 kW.