In an alarming situation, farmers in the central provinces are leaving paddy fields uncultivated as they have been suffering huge losses from previous crops.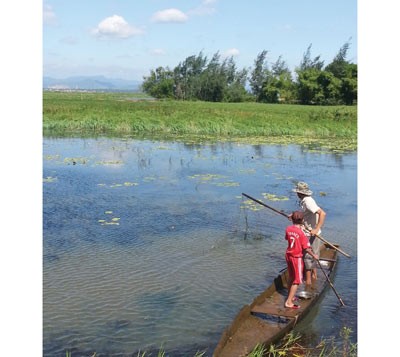 A paddy field in Gia Ninh Commune of Quang Ninh District in Quang Binh Province is now a lake for catching fish (Photo: SGGP)
Thousands of farmers in Quang Binh and Ha Tinh Provinces have abandoned their paddy fields. Truong Loc Commune with 331.3 hectares under paddy accounts for 70.40 percent of rice cultivation, one of the biggest rice areas in Ha Tinh Province.
Hoang Manh Hung, the Tan Tien Village chief, said some paddy fields have been left uncultivated for such a long time that weeds have covered the land.
As days go by, more farmers want to give their rice farmland back to the government. At this rate, paddy fields will be totally abandoned in the next few years.
Hung added that farmers are not interested in doing farm work as they earn little to no profit. They prefer expat labor overseas or seek jobs in Ho Chi Minh City, southern provinces of Dong Nai, Binh Duong, or work in industrial parks for a higher income.
In Quang Binh Province, more than 750 hectares of farm land is lying deserted. Nguyen Viet Anh, Chairman of the People's Committee in Quang Ninh District said 360 hectares of land is no longer under summer-autumn rice cultivation.
Pham Huu Thao, Deputy Head of the People's Committee of Le Thuy District, said farmers cultivated the summer-autumn rice crop on 4,500 hectares in previous years but this is now reduced to 1,400 hectares, because farming is no longer profitable.
Thao said that at present farmers prefer growing recycled rice as they spend less and can harvest after 40 days. Each hectare harvests 26 quintal, earning more profits.
Phan Van Gon, Chairman of the People's Committee of Bo Trach District in Quang Binh Province, said the government must intervene in rice prices to support farmers.
The Department of Agriculture and Rural Development in Ha Tinh Province sent a report to the Ministry that a total of 1,309 hectares of paddy fields are lying uncultivated.
The central provincial's authorities have sent their proposal to Government with wishing to get input-output price stabilization policy. If that they would be able to keep their mind on their work.