At a conference held in An Giang Province recently, relevant authorities met to discuss the changing patterns in duck-breeding by farmers and various risks of recurrence of bird flu in the region.
Nguyen Thanh Son, deputy director of the Department of Livestock Breeding, said that people in the Mekong delta tend to breed ducks in industrial farms and ranches instead of the free-range traditional method of farm husbandry.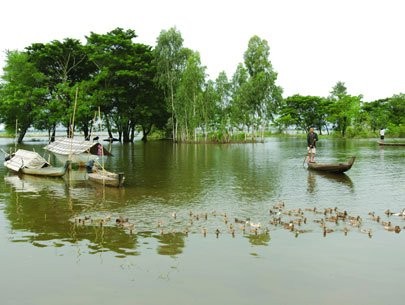 Raising ducks in a concentrated ranch, a favorable tendency nowadays
Currently, the region has 2,114 industrial ranches, an increase of 9.9 per cent compared to 2010. Moreover, duck farmers combined breeding methods of closed coops, concentrated ranches, raising duck and fish together or raising ducks in orchards.
Previously, residents in the Mekong delta had a habit of letting ducks roam freely from rice paddy fields to other fields to pick grains of rice spilled after a harvest. However, this method of breeding can spread bird flu H5N1 virus very easily, hence the government has banned it.
Residents in the Mekong delta earn VND20 trillion (US$960 million) annually from raising ducks, said Nguyen Dang Vang from the Vietnam Association of Livestock Breeding.
This sum is good enough for people in the region and for the economy. But the region faced a huge loss when bird flu hit the area in 2003.
After a hiatus, thanks to an effective vaccination programme, flocks of duck increased from 66.2 million in 2008 to 72.5 million in 2012, with 40 million ducks being raised in farms in the Mekong delta.
The bird flu nevertheless reoccurred in six provinces in the Mekong delta in small farms since the beginning of the year, causing two deaths.
At the conference, Truong Thi Kim Dung, director of the Centre for Animal Health No.7 in the Mekong delta city of Can Tho, said that around 25.4 million birds had been vaccinated in the first quarter of the year.

The vaccination rate is quite low, just 50 per cent. This shows that a large portion of farmers had low awareness of vaccination and combined with lax behavior of local official, the disease could very well re-occur.