Farmers' associations in HCM City and Dong Nai and Ba Ria-Vung Tau Provinces have slammed Vedan Vietnam for unilaterally announcing a VND20-billion (US$1.1 million) compensation payment to farmers affected by its discharge of toxic wastewater into a river.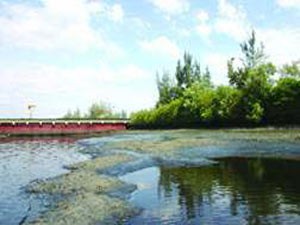 A view of the Thi Vai River in Dong Nai Province last year when it was seriously contaminated by toxic wastewater discharged by Vedan Vietnam
It infringed an agreement the Taiwanese MSG maker had signed with them to jointly determine compensation criteria and amount, they said.
They were also unhappy with the amount it plans to pay.
Besides, Vedan's proposal to provide an additional VND5 billion to set up a welfare fund for farmers in Can Gio District (HCMC), Nhon Trach and Long Thanh Districts (Dong Nai), and Tan Thanh District (Ba Ria-Vung Tau) is vague and impractical, they said.
More than 7,000 farming households suffered badly from the pollution caused to the Thi Vai River and have demanded compensation of over VND200 billion, they said.
Duong Minh Quang, standing deputy chairman of the HCM City Farmers' Association, said for instance the VND7 billion Vedan is offering to pay farmers in Can Gio District is too little compared to the losses.
The district authorities said recently more than 1,800 farmers have filed complaints demanding over VND100 billion.
"What has Vedan based its calculations on to arrive at a figure of VND20 billion? The 7,000 claimants will only get VND2.8 million each," the chairman of the Ba Ria-Vung Tau Province association, Nguyen Van Thong, pointed out.
"It plans to pay only VND6 billion to farmers in Ba Ria-Vung Tau," he added.
Tran Van Quang, deputy chairman of the Dong Nai Province association, demanded that Vedan comply with the agreement to discuss the compensation with the associations.