Orchards in the Mekong Delta provinces are about to ready for harvest, however, farmers are anxious as bad weather has caused low production while fruit prices are predicted to possibly drop when fruits are harvested profusely and vigorously.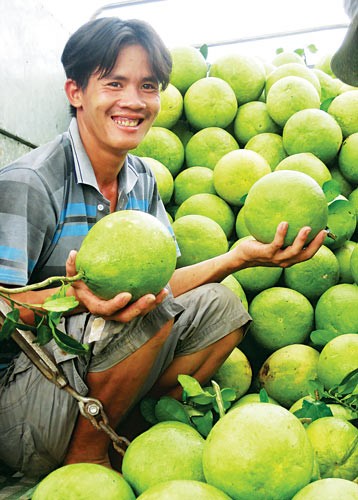 Nam Roi grapefruits are currently bought at VND22,000 per kilogram. (Photo: SGGP)
Farmers in Dong Thap Province's Cao Lanh District and Cao Lanh City have started to harvest mango. Vo Van Ro, owner of a 10,000-square-meter mango orchard in Cao Lanh City, said that traders bought Chu mangoes at VND15,000 per kilogram at the orchard last month, but now as other orchards have also started to harvest their mangoes, the price has fallen to VND7,000 per kilogram. This year, mango yield fell by 30-40 percent due to unfavorable weather. Along with decreasing price, farmers have seen a low profit.

Mango trees have been grown broadly in the province in recent years. Most farmers have switched from growing rice to Chu or Taiwanese mangoes. Despite the price of Chu mango currently has sharply dropped while that of Taiwanese mango has slightly slid to VND17,000 per kilogram, farmers will still earn higher profits from growing mangoes than from growing rice.

Farmers in Tien Giang Province's Cai Be District, where the well-known Hoa Loc mango trees are grown, said that they will have poor harvest because of bad weather and pests.

Farmers in My Hoa Commune in Vinh Long Province's Binh Minh Town are hurriedly harvesting Nam Roi grapefruits in order to sell to traders. Currently, grade-1 Nam Roi grapefruits are bought at VND22,000 per kilogram, and grade-2 ones are at VND18,000 per kilogram. This price level ensures profits for farmers; however, the price fluctuates every day, depending on market demand.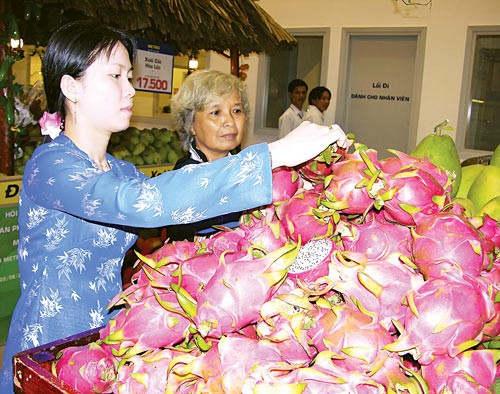 The price of dragon fruits in the Mekong Delta fluctuates wildly. (Photo: SGGP)
Meanwhile, the price of dragon fruits in Long An and Tien Giang provinces has also changed constantly. According to Truong Van Doi, who has more than 1,000 red-flesh dragon fruit trees in Tien Giang Province's Cho Gao District, the price of red-flesh dragon fruits has gone up and down swiftly in the past two months. Sometimes, traders purchased at VND60,000 per kilogram, then at VND40,000 per kilogram, or even suddenly lowered the price to VND15,000 per kilogram. Now, the price is swinging from VND25,000 to VND30,000 per kilogram. As for white-flesh dragon fruits, the price is merely at VND10,000 per kilogram. Farmers still have profits at this price level though it is not as high as it was after Tet holidays. However, it is expected that the price will decline further when fruits are harvested profusely and vigorously, starting from May onwards.

Bell fruit and guava growers are those who are underprivileged as they have to spend money to hire labor to pick fruits while they will be bought at extremely cheap price of VND2,000-4,000 per kilogram by traders.

Data by the Ministry of Agriculture and Rural Development shows that fruit trees are grown on an area of around 843,000 hectares across the country, of which southern provinces account for 466,700 hectares. Fruits grown in the Mekong Delta are various with many well-known varieties, including Hoa Loc mango, Chu mango, green-skin grapefruit, Nam Roi grapefruit, dragon fruit, Ri6 durian, Chin Hoa durian, longan, Lo Ren Vinh Kim star apple, and Lai Vung mandarin orange. The country's fruits exports have continuously increased with turnover exceeding US$1 billion in 2013 and touching $1.5 billion in 2014.

PhD Nguyen Van Hoa, director of Southern Horticultural Research Institute, said that Vietnamese fruits have penetrated into demanding markets such as Japan, the US, and EU. 'This is a very big and promising step,' he said.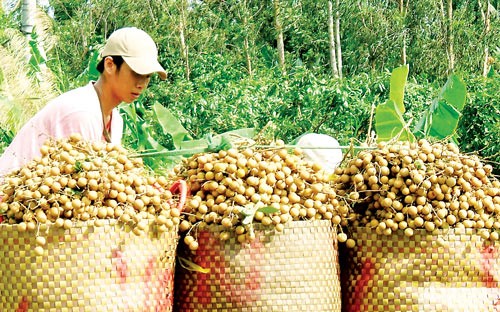 Traders purchase longan in Vinh Long Province. (Photo: SGGP)
Nevertheless, in general, growing and exporting fruits still show many shortcomings. Farmers still cultivate fruit trees spontaneously and in small scale, leading to high cost, not to mention that the fruits are not of equal quality. When they see any kind of fruits that yields high profits, they will flock to grow that fruit cultivar which later will cause excessive supply and drop in price. In addition, pests and diseases on fruit trees have not been controlled well. There are only a few businesses that invest money in orchards and ensure consumption for fruits in the Mekong Delta. This is a huge disadvantage for improving fruit quality and fostering export of fruits.

PhD Bui Thanh Liem, director of the Department of Agriculture and Rural Development of Cho Lach District in Ben Tre Province, said that agriculture has provided farmers with new high-yielding varieties and encouraged fruit orchards to adopt VietGAP and GlobalGAP standards. Farmers have realized that in order to enter demanding markets they have to produce clean and high quality fruits. However, it is necessary to have businesses to cooperate with farmers to develop fruit orchards sustainably.

According to Le Minh Hoan, provincial party committee secretary of Dong Thap Province, fruit is one of the most important commodities in the agricultural restructuring project of the province. The province will encourage farmers to join cooperatives so as to have connection with wholesalers in Ho Chi Minh City and fruit exporters.

According to the Vietnam Fruit and Vegetables Association, the country mainly exports fresh fruits while frozen fruits or canned fruits exports merely account for 10 percent. In the future, the country should promote export of processed fruits in order to expand market and bring in higher profits.