Farmers in the Mekong Delta are concerned about rice demand at the end of the Government rice stockpiling program on March 30, in which one million tons of husked rice or two million tons of normal rice will be warehoused.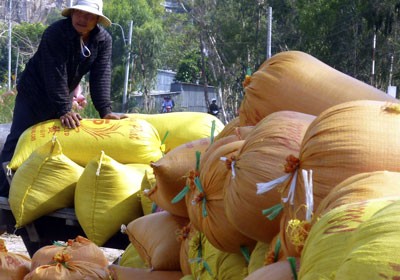 Huge rice stocks await demand in the Mekong Delta (Photo: SGGP)
In one month of the Government rice stockpiling program, businesses have purchased 90 percent of the target volume.
According to Dr. Pham Van Du, deputy head of the Cultivation Department, the Mekong Delta harvested 1.5 million hectares of winter-spring rice by March 19. The remaining 350,000 hectares will be reaped by the end of April.
Rice productivity is estimated at 6.8 tons per hectare, yielding output of 10.6 million tons in this crop. Of which 7-8 million tons is commercial rice. As a result, the volume of rice in need of consumption in the Mekong Delta is very large.
Kien Giang Province alone has upto 600,000-700,000 tons of commercial rice, said Tran Quang Cui, deputy director of the provincial Department of Agriculture and Rural Development.
The rice stockpiling program seems to have impacted the price of rice just marginally. Rice prices have gone up by only VND300-400 a kilogram, which does not profit farmers as expected.
Related articles:
Gov't rice stockpile less than production
Low demand for high quality rice in Mekong Delta