The farmers associations of Ho Chi Minh City, Dong Nai, and Ba Ria-Vung Tau Provinces have finally announced the amount of damages they would demand from Vedan Vietnam for the loss it caused to farmers by polluting the Thi Vai River: VND569.5 billion (US$31.6 million).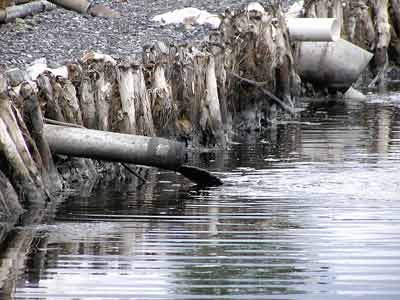 This file photo shows Vedan uses concealed pipes to illegally dump untreated wastewater into the Thi Vai River (Photo:SGGP)
There was speculation about the final figure after several numbers were bandied, including VND1.2 trillion, based on 11,000 complaints from farmers in the three places.
 
The HCMC Farmers' Association had said on September 24 that it would ask Vedan, a Taiwanese producer of monosodium glutamate based in the southern province of Dong Nai, to pay VND153.5 billion for farmers in Can Thanh, Thanh An, and Long Hoa Communes in Can Gio District.
 
Nguyen Van Phung, its deputy chairman, said: "The [city] Natural Resources and Environment Department has started to evaluate the impact of the pollution of the Thi Vai River on the district's aquaculture. The assessment will be completed in November and provide evidence for filing lawsuits for compensation."
 
On the same day the Dong Nai Farmers Association had said it would demand VND120 billion and the Ba Ria-Vung Tao association, VND269 billion.
                                                      
The Government has ordered the city and two provinces to assess the effect of the pollution on the environment, natural resources, and people living along the river.
 
It also told their environment departments to estimate the cost of cleaning the river.
A year after Vedan's plant began operating in Dong Nai in 1994, the water in the river turned black.
It deterred farmers from aquaculture and residents fell sick after bathing in the river.
Environmental agencies last year discovered Vedan using illegally laid, concealed pipes to dump untreated wastewater into the river.