The yellow apricot blossom trees planted for Tet Lunar New Year have flowered early in the Mekong Delta provinces of Dong Thap, Ben Tre and Tra Vinh, which will cause a severe loss of billions of dong to farmers.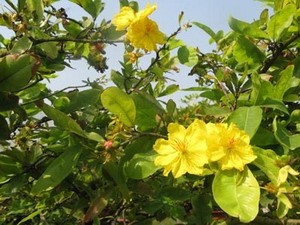 Several apricot blossom trees grown for Tet have flowered early this year, causing loss to famers in the Mekong Delta (Internet Photo)
Nguyen Phuoc Loc, chairman of the Ornamental Creatures Association in Sa Dec Town in Dong Thap Province, said that a lot of apricot tree growers are distressed because the trees have blossomed far too early--about two and a half months before the Tet Festival.
In some fields, almost 40-60 percent of the apricot trees are in full bloom.
Tran Thi Lan, an apricot tree grower, said that the weather this year has been warmer than previous years, which has led to the apricot trees blossoming early.
Similar conditions are causing much distress in Ben Tre and Vinh Long Provinces.
According to the Department of Agriculture and Rural Development in Cho Lach District in Ben Tre Province, the district prepared nearly 1.6 million yellow apricot blossom trees for Tet.