Dairy firms pledged to buy milk from farmers, many of whom have been dumping milk after sales crashed in Viet Nam ever since the melamine scare in China last month.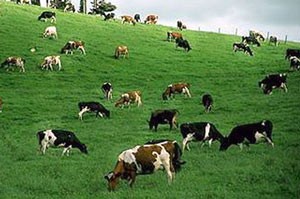 Farmers in the North cheer again as dairy firms pledge to buy milk (Photo:SGGP)
But Hanoimilk's sales director Dang Minh Tuan told a conference held to discuss the farmers' plight that those dumping their milk had not signed contracts with companies.
Instead, they had been selling their milk in markets, and when people stopped buying, they rushed to companies and demanded they buy their milk, he explained.
Deputy director of capital city's Department of Agriculture and Rural Development, Dao Duy Tam, said dairy firms should buy milk from the farmers at their houses.
Viet Nam produces little fresh milk and uses imported powder for its dairy needs.
The conference was held by the Ministry of Agriculture and Rural Development's Department of Breeding.