Farmers in Vietnam have been severely hit by continuing fall in pork prices as well as crop diseases that have devastated large farming areas of snout otter clam in the northern province of Quang Ninh and shrimp crops in the Mekong Delta.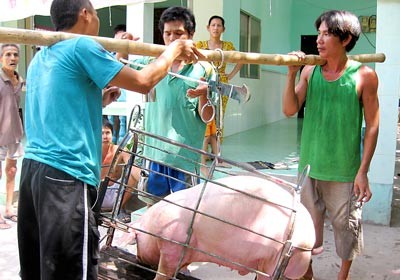 Fall in pork prices has caused huge losses for farmers (Photo: SGGP)
About 650 households breeding snout otter clam have suffered losses of at least VND200 billion (US$9.5 million) due to diseases in Van Don District of Quang Ninh Province, according to statistics of the Department of Agriculture and Rural Development in the district.
Farmers expected to harvest their clam sown in May last year by July this year, but disease has destroyed the crop since early March.
According to test results done by the National Center for Veterinary Diagnosis under the Ministry of Agriculture and Rural Development, the snout otter clam crop has been infected with parasite Perkinsus Spp.
This disease has spread quickly and local authorities have not found any effective measures to fight it and also failed to warn farmers to stop farming clams till a remedy was found.
Last year, residents in Van Don District tripled their clam farming area compared to that in 2010. They bought 60 million clams to propagate from various provinces around the country and even from China.
Meanwhile, pork prices have kept tumbling in the Mekong Delta. On July 1, the price was only VND3.4 million (US$162) a quintal, a reduction of about VND1.6-1.8 million compared to the same period last year.
The low price and spread of the blue-ear pig disease has depressed pig breeders in the delta region and many have even given up breeding pigs.
The agriculture department in Dong Thap Province said that the number of pigs in the province have reduced to only 200,000 now, half the normal number.
Long An Province saw a reduction of 50,000-70,000 pigs. Hau Giang, Vinh Long and Bac Lieu Provinces also faced the same situation.
The Department of Livestock under the Ministry of Agriculture and Rural Development is worried about a shortage of pork in the next few months.
The Directorate of Fisheries, also under the ministry, said that diseases have continued to ravage shrimp farms in the Mekong Delta. A total of 39,000 hectares has suffered damages, causing a loss of VND5.5 trillion (US$262 million) for local farmers.
Dead shrimps have put processing plants in severe shortage of raw material, while price of tiger shrimp is still very low in Ca Mau, Bac Lieu and Tra Vinh Provinces.