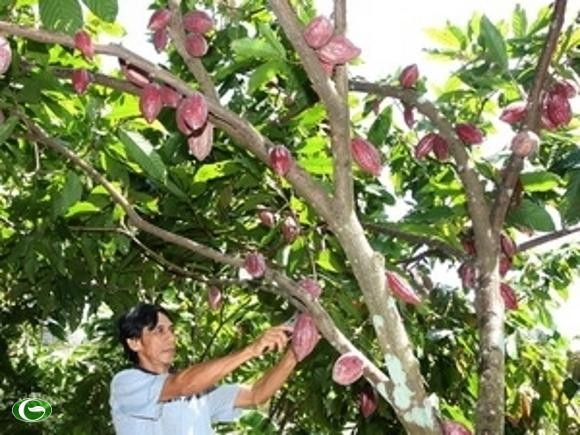 Cocoa tree planted in  Ben Tre Province
In recent months, farmers in the Mekong Delta province of Ben Tre have chopped down more than 1,000 hectares of cocoa plants, either to switch to other cultivation or leaving land abandoned.
Farmers in Giong Trom District in Ben Tre Province have cut down more than 1,000 hectares of cocoa plants while their counterparts in Chau Thanh District have uprooted 400 hectares and in Ben Tre Town more that 100 hectares.
Farmers say that cocoa trees alternated with coconut trees eat up more fertilizer and hence reduce productivity of coconut trees.
In addition, cocoa leaves are hard to decompose after they fall to the ground.
Moreover, price of cocoa has also dropped from VND5,000 to VND3,000 a kilogram.
Since 2005, farmers growing cocoa trees had been expanding their area. At the beginning of 2013, the area for growing cocoa tree in Ben Tre province was nearly 11,000 hectares, the maximum area under cocoa plantation in the South, with the province producing world class quality cocoa.