Fish and shrimp breeders in the central region are in deep despair after diseases have hit their fish and shrimp crops, with many of them now on the verge of bankruptcy.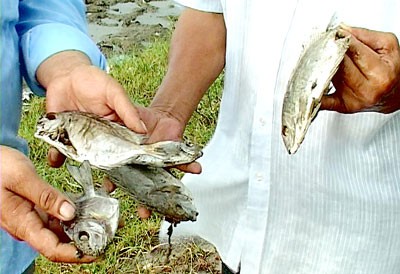 Rabbitfish die enmasse in Tam Giang Lagoon in Thua Thien-Hue Province (Photo: SGGP)
About 500,000 rabbitfish (Siganus) have died in Tam Giang Lagoon causing losses upto VND2.5 billion (US$119,000) for local households in Thua Thien-Hue Province.
One household will suffer an average loss of VND40-50 million ($1,904-2,380).
Tens of thousands of Kinh fish, a small fish species living in brackish water, also faces extinction in Quang Dien District.
According to the district Department of Agriculture and Rural Development, the long-lasting hot weather together with rainstorms has suddenly changed the salinity in breeding ponds.
Besides, the spread of blue green algae has reduced oxygen in the water. Another reason is that farmers have bred too much fish in a single pond and hence the quality of bred fish has gone down.
Farmers in the central region are also stricken by shrimp diseases, which have spread and killed numerous tiger prawns and white-leg shrimps in many provinces.
Several breeders are on the verge of bankruptcy after mortgaging their properties to banks so as to breed shrimp.
They now are in need of assistance from authorized organs to fully determine the cause of the dead fish and shrimp, to prevent further spread of diseases. Farmers too need assistance in sterilizing breeding ponds.