Farmers in the central provinces of Viet Nam face total devastation of crops from field rats and insects in the summer-autumn crop season.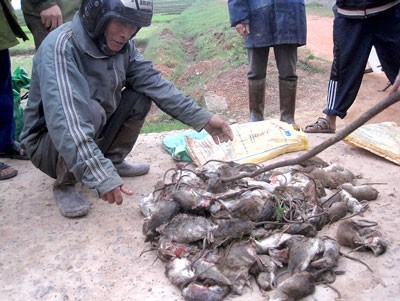 Farmers in Quang Binh Province kill many field rats but paddy fields are still devastated (Photo: SGGP)
Everywhere in the central provinces, men, women and children are seen trying to catch rodents with all available equipment. The field rat breeds on the rice crop at the late vegetative stage.
Farmers are thus more distressed as the animal devastates many hectares of paddy fields at one go.
In Quang Tri Province, more than 6,000 hectares of paddy fields have been destroyed by rats and insects.
According to some agencies, there are around 5-15 rats in one square meter area and sometimes even 30-40 in a square meter of rice field.
The Department of Agriculture and Rural Development said that 2,000 hectares of rice fields were devastated by rats and harmful insects in Quang Binh Province.
Nguyen Tong Phong, Head of the Bureau of Plant Protection under the Department of Agriculture and Rural Development in the central province of Ha Tinh, said that 255 hectares of rice fields have become infested with rats.
Despite efforts by the local administration and farmers to get rid of this menace, rats continue to multiply and destroy crops.
To encourage people to kill rodents, the Ha Tinh government is selling rodent poison for VND1,000-2,000.
Nguyen Van Dong, Chairman of the People's Committee in An Ninh Commune in Quang Binh Province said the government has allocated VND200 million (US$9,473) for purchasing rat poison, but still cannot kill all.
The outbreak of the rodents is because there was no flooding at the end of last year, which would have otherwise destroyed the pests.