Farmers in the Mekong Delta have begun to harvest 1.65 million hectares of the summer-autumn rice crop but are worried over continuously falling prices.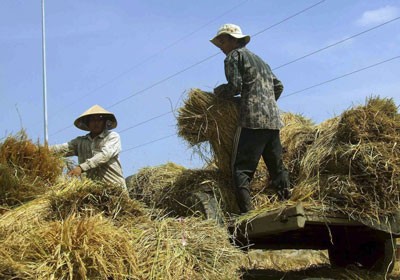 Farmers harvesting rice in the Mekong delta (Photo: SGGP)
According to farmer Bui Thi Hong Hoa in Chau Thanh A District in Hau Giang Province, the price of fresh rice is only VND3,500 a kilogram and for long grain variety just VND4,000 a kilogram.
The price of rice has dropped to an all time low in the last one year but traders still bargain and showed reluctance to purchase. At this price, farmers are at risk of losing a lot of money.
In Dong Thap, Long An and Vinh Long Provinces, farmers harvest an abundant summer-autumn rice crop and many of them are under pressure to lease off their fields;  however, low prices and reluctant attitude of traders are their main concern.
According to the Ministry of Agriculture and Rural Development, in May, the Mekong Delta farmers harvested more than 817,500 tons of summer-autumn rice crop over 150,000 hectares.  They are expected to harvest around 926,500 tons of rice over 170,000 hectares in June.
Due to low prices, Deputy Prime Minister Hoang Trung Hai asked firms to purchase one million tons for stockpiling in a bid to stabilize price.
The Vietnam Food Association (VFA)  wants to work with People's Committees in the region to buy rice at  VND4,142 per kilogram.  VFA said exporters have sold more than 2.48 million tons of rice so far, earning revenue of upto $1.1 billion.