Mechanization of Vietnam's agricultural sector is still slow and lacking synchronized development, the Agricultural and Forestry Product Processing and Salt Department said December 4 at a meeting in the Mekong Delta province of Can Tho.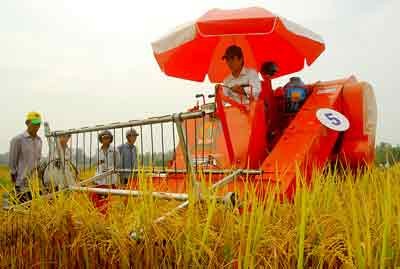 Most Vietnamese farmers utilize modern machinery to harvest crops on just 20 percent of their land. (Photo: SGGP)
The department, a division of the Ministry of Agriculture and Rural Development, said farmers are losing profits due to a lack of modern machinery to process their crops.
Vietnamese farmers are not well-equipped with technology compared to other Asian nations, the department added.
Vietnamese farmers do employ machinery, however, to plough land and transport and grind unhusked rice.
But the Mekong Delta contains vast farmland while the majority of farmers here utilize modern machinery on just 20 percent of their land when harvesting crops. Experts say this results in an average loss for farmers of 2.9 percent in revenue.
Many farmers also rely on the sun to dry their rice outdoors rather than using machines. Drying technology has improved greatly in the south, but farmers in the north and central regions still use basic methods.
The storage of crops could also be improved, the department said.
Most farmers store rice in rudimentary wooden or bamboo barrels, trunks or pots which decreases the quality and longevity of the grains. Mekong Delta farmers use mainly jute bags to store rice, which are vulnerable to damage from wood-boring worms.
Experts say this can result in a loss of up to 4 percent in revenue after three months of stockpiling.