Tran Van Quang, a farmer in Hau Giang Province in the Cuu Long (Mekong) Delta, has increased his profit from rice farming by at least 18 per cent since he began to apply a new farming model developed locally.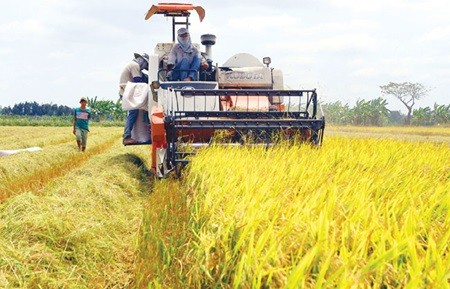 Farmers harvest the winter-spring crop 2014-15 in Hau Giang Province. Many farmers in the province's Vi Thuy District have adopted a new farming model to increase productivity and reduce the use of fertilisers and pesticides. (Photo: VNA/VNS)
Some 88 farmers in Vi Thanh Commune, Vi Thuy District, had adopted the "3 down-3 up" model to increase productivity, quality, and economic effectiveness and reduce the use of fertilisers and pesticides, he said.
The model, developed by the province's Agriculture and Fisheries Extension Centre, had enabled farmers like him to reduce seed usage by 30-40kg per hectare and nitrogenous fertilisers by 50-70kg and save 30 per cent on pesticides compared to traditional farming methods, he said.
On the other hand, productivity had reached "an average of 6.1 tonnes per hectare compared with 5.8 tonnes in nearby fields that did not adopt in the model," he added.
In Thanh Dong A Commune, Kien Giang Province, many rice farmers have adopted a technique called "alternate wetting and drying", or AWD, and benefited.
Do Ngoc Kim, one of them, said that the new farming method had helped his family reduce fertiliser and pesticide use while increasing rice yields by 10 per cent and profits significantly.
At his co-operative, where members had applied the new farming method on 270ha a year ago, the figure had increased to 500ha now, he said.
Phan Huy Thong, director of the National Agriculture Extension Centre, said with its more than 1.8 million hectares under rice, the delta contributed more than half of the country's rice output and 92 per cent of exports.
But farmers' incomes were very low due to high costs and unstable prices, he told a forum titled "Improving economic efficiency and reducing greenhouse gas emissions in rice production in the Cuu Long (Mekong) Delta" in Hau Giang on May 5.
The overuse of chemical fertilisers and burning straw after harvest following traditional farming methods caused greenhouse gas emissions, he said.
In 2000, CO2 emissions in Viet Nam had been over 150 million tonnes of which the agricultural sector accounted for 65.09 million tonnes, with emissions from rice farming accounting for well over half.
To reduce the emissions and improve economic efficiency in rice production, many new and advanced farming models have been adopted in the country, especially the delta.
They include the System of Rice Intensification (SRI), "3 down-3 up", AWD, and the "1 must-5 decrease" (Must use certified seeds, reduce sowed seeds, crop protection chemicals, nitrogenous fertilisers, water use, and post-harvest losses).
Huynh Quang Tin of the Mekong Delta Research Development Institute said after four years of piloting the AWD model in five places in the delta, productivity had increased by 10 per cent and profits by 17 per cent compared to traditional methods.
Furthermore, efficient irrigation methods helped effectively reduce greenhouse gas emissions, he said.
Hoang Van Hong of the National Agriculture Extension Centre said last year the centre had implemented the "3 down-3 up" and SRI models in 13 places in the delta.
This models helped farmers not only save seeds, agricultural inputs, and irrigation costs, but also make optimal profits, improve soil quality and reduce green house gas emissions, he added.
Thong said despite their benefits, the new farming models were expanding very slowly since farmers were not provided with sufficient information, and this should be improved.
The agricultural sector would consider expanding the low-carbon farming model to produce high-quality rice to meet consumer demands and make agriculture sustainable, he said.
Local authorities and farmers should consider their land conditions to adopt a suitable new farming method, he added.
Organised by the centre and the Hau Giang Department of Agriculture and Rural Development, the forum attracted more than 400 delegates, including 250 farmers from the delta.