Ho Chi Minh City's Farmers Association August 18 received the first half of the compensation package, worth VND22.8 billion (US$1.1 million) paid by MSG Company Vedan for polluting the environment, said the association's chairman Nguyen Van Phung.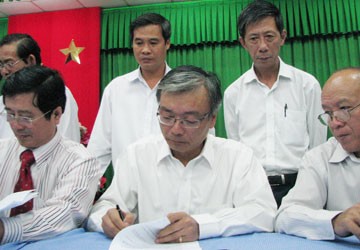 Representatives of Vedan Vietnam and Ho Chi Minh City sign the compensation agreement on August 13. (Photo:phapluat.vn)
The association also received VND500 million the Taiwanese company paid for investigation fees and expenses on damage calculations for Can Gio District through a bank in the city.
A bank guarantee was also sent to the association.
The affected farmers will get the second payout by January 14, 2011, according to the guarantee.
Earlier, Vedan agreed to compensate farmers in Can Gio a total of VND45.7 billion (US$2.28 million) for damages caused by its fourteen year pollution of the Thi Vai River.
On the same day, Tran Van Cuong, deputy director of Ba Ria – Vung Tau Province's Department of Agriculture and Rural Development said  Tan Thanh District People's Committee received VND26.8 billion ($1.3 million) in the initial phase paid for 1,255 affected farmers and VND500 million for damage calculations.
Vedan proposed the same two-phase payment method.

It has yet to strike any deal with Dong Nai Province which suffered most from the pollution, with damages put at nearly VND120 billion ($6 million).