Farmers and local authorities in the Mekong Delta and the central region are struggling to salvage thousands of hectares of rice crop submerged under floodwaters, after persistent rains over the last few days.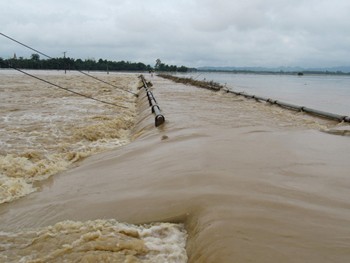 Vast sections of roads were washed away by gushing floodwaters in Hung Nguyen District of Nghe An Province (Photo: Thanh Nien)
Nguyen The Tu, chief agriculture officer in Phung Hiep District in the Mekong Delta province of Hau Giang says the district has approximately 6,700 hectares of rice crops that are nearly ready for harvesting and are now lying submerged under floodwaters, which will undoubtedly affect the rice output.
Authorities in An Giang Province have stepped up the process to salvage 12,000 hectares of severely inundated rice, of which the damage could come up to VND2 billion (US$95,000) in Thoai Son, Chau Thanh and Chau Phu Districts.
Floods have also devastated nearly 400 hectares of rice in Vinh Thanh and Thot Not District of Can Tho City.
Hong Ngu and Tan Hong District in the upper areas of Dong Thap Province have several breached levee sections that need immediate reinforcing. Nearly 2,600 hectares of rice crops in Hong Ngu District are in threat of submerging by rising floodwaters.
Torrential rains in the central region have resulted in flooding in river valley areas in provinces from Thanh Hoa to Quang Nam.
According to the Central Steering Committee for Flood and Storm Prevention, one student died when he was swept away on way back home from school in Binh Thuan Province. Three other deaths were reported earlier from Nghe An Province.
Floods have damaged over 1,600 houses and inundated nearly 10,000 hectares of rice and vegetables. Thousands of cubic meters of soil have been eroded from roads, causing traffic blockage in several areas.
Rain fell unabated on September 13 in Quang Tri Province. Mounds of recently harvested rice either turned mouldy or sprouted. Farmers had to use electric fans to dry the rice on floors and dry places.
Departments of agriculture and rural development in Quang Nam Province and Da Nang City have instructed local authorities to help farmers harvest the standing inundated rice crop. Quang Nam Province has already harvested 8,000 hectares of rice and Da Nang City 2,000 hectares, as of September 13.
Related article:
Heavy downpours across the country cause widespread devastation