Agricultural, aquatic and forestry farmers, and salt workers will be exempted from the agricultural irrigation fee, said Deputy Minister of Finance Tran Xuan Ha on Monday.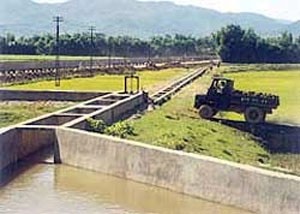 An irrigation work
The exemption, which is intended to promote rural development, will be implemented within 15 days of its announcement. Farmers who have not paid irrigation fees may have their debts absolved depending on circumstances.

Organizations managing the irrigation system will receive financial aid from the state's budget so they can continue operating after the exemption takes effect.

Officials will be responsible for reviewing irrigation works and for implementing measures to improve their operation and avoid financial waste.

The new decision aims to remove a burden from farmers who have long suffered from low income, decreasing agricultural land area, and an underdeveloped irrigation system.