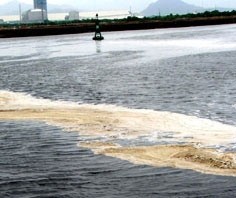 Thi Vai river is less polluted after Vedan stopped discharging wastewater
Farmers in Ho Chi Minh City's Can Gio District have demanded VND567 billion (US$31.5 million) from Vedan Vietnam, a Taiwanese producer of monosodium glutamate based in Dong Nai Province, as compensation for damaging aquaculture farms and crops by discharging untreated waste into a local river.
They announced the sum September 17 at a meeting between the Ho Chi Minh City Farmers' Association, Can Gio People's Committee, and other agencies.
The committee's deputy chairman, Nguyen Van Phung, said the compensation was estimated based on the economic losses announced by the Ministry of Natural Resources and Environment.
The association is representing 1,181 farmers who have complained of losses.
Yang Kun Hsiang, general director of Vedan Vietnam, has written to the Association asking to hold talks to settle the issue.
He admitted discharging untreated waste into the Thin Vai River was a wrong act but said the river had already been polluted by many other factories.
Related articles:
Vedan to meet farmers for compensation talk
Extension to Vedan damage deadline sought
Thi Vai farmers' compensation discussed
Farmers' association to demand compensation from polluting Vedan