The farming communities including rice, sugar cane farmers as well as chicken, livestock and fish breeders have fallen into bad times with slow consumption and drastic drop in prices.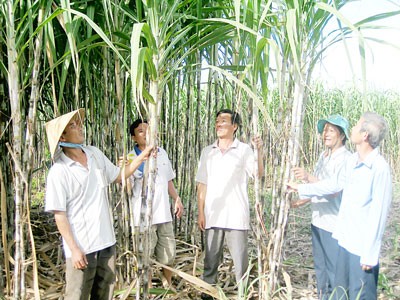 Sugar cane growers earn less due to low prices (Photo: SGGP)
Doan Ngoc Anh, a farmer from Tan Hong District in the Mekong Delta province of Dong Thap, said that they have seen a very poor summer-autumn rice crop this time. In addition, price has dropped to only VND4,100 a kilogram for fresh normal rice while overheads have multiplied, leading to heavy losses.
Anh suffered a loss of VND3.6 million for three tons of harvested rice. He said that he has grown rice for the last 40 years and this has been the most difficult year.
Dr. Le Van Banh, head of the Rice Research Institute in the Mekong Delta, said that the Mekong Delta has harvested 9.3 million tons of summer-autumn rice, yielding about 4.6 million tons of husked rice. Of this, 3.1 million tons is for consumption.
Businesses said that they cannot increase the prices because rice export is facing difficulties.
Nevertheless, food businesses have gained in profits annually while farmers have always earned less or even suffered losses despite working the hardest, he said.
Farmers in the northern and central regions are in peak harvest time for their winter-autumn rice crop. However more than 16,000 hectares of all BC15 rice variety has still no grain ears.
The General Department of Cultivation blamed the disadvantageous weather while hydro meteorological centers and local authorities refute this, saying the weather has been quite stable recently. 
Representatives from the Department of Agriculture and Rural Development in Vinh Phuc Province doubt the quality of BC15 rice variety.
Several sugar cane growers are also facing losses because of low prices.
Phan Van Nam, a farmer from Phung Hiep District in the Mekong Delta province of Hau Giang said that the sugar cane price dropped to only VND700-800 a kilogram last year. As a result, he has switched to rice farming this year but the rice price is not any better.
According to the Ministry of Agriculture and Rural Development, chicken and livestock breeders are under strain due to diseases and fall in a price, which has led to a reduction in the breeding cycle.
The numbers of buffalos and cows has fallen by 2.54 percent and 3.16 percent to reach only 2.59 million and 5.14 million, respectively.
Meantime pig and chicken breeders are not profiting due to diseases and increasing cost prices while selling prices have also reduced.