As factories move out of the city, farmers worry that their fields will be destroyed.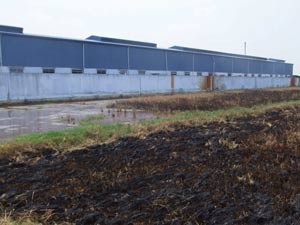 Waste water from an industrial factory destroys a rice-field in Binh My Commune of Cu Chi District
Mr. Ba Muong of Dong Thanh Commune in Hoc Mon District said that a million-hectare field near his house has been fallow for four or five years.

"Nobody can cultivate any seedlings on this field even though silt from the Sai Gon River had raised the level of the field so much," said Mr. Muong. "The picture of four years ago seemed to be a contrast to the current one. At that time, a lot of farmers were working, cultivating and seeding happily."

Farmers who grew crops in the uncultivated field had many bad harvests because the water source for the field is a small canal that is polluted by the factories upstream, said Ms. Nguyen Thi Gai, a neighbor of Mr. Muong who owns two hectares of the uncultivated field.

"The more bad crops they had, the less willing they were to raise crops on the field," she added. "As a result, more and more farmers have left the alone."

Many conduits from factories pour waste water directly to the stream of the small canal. As a result, the stream has turned black with pollution.

Other fields in the communes of Tan Thanh Dong, Tan Phu Trung, and Binh My in Cu Chi District have faced the same problems.

Officials improved the roads in their areas and built new roads on the fields to shorten the distance from the farmers' houses to the fields in order to persuade the farmers to work these fields. However, few farmers were willing to work these fields.

"The black stream containing waste water from the rubber processing factories destroyed all the seed-rice here," a farmer in Tan Thanh Dong Commune said. "After growing for a few days, the rice showed symptoms of rice blast and easily caught fire. Though the factories paid compensation to us, the compensation was much less than the real damages we suffered. Consequently, we decided not to raise crops again."

Another farmer in Tan Thanh Dong blamed officials for letting entrepreneurs set up factories on farmland and destroying all the crops there.

"Farmers are sad whilst the owners of the factories are happy since the fields were good place for them to run their waste water directly to," he said. "Most of them do not pay for any waste water system to purify the water before letting it out to the fields."

In recent years, the People's Committee of Cu Chi District has penalized many factories for polluting water sources. These factories subsequently reduced their pollution, but only for a short period. They later resumed releasing waste water into canals or rivers.