Three people were killed and 34 others injured in a fatal traffic accident that occurred early morning hours of June 9 in Dien Ban District of Quang Nam Province.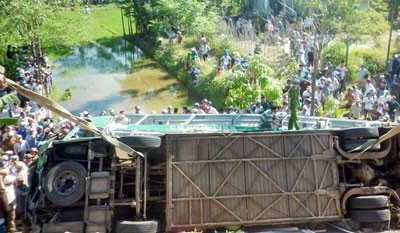 The overturned passenger van of Mai Linh Company at the scene of accident(Photo: SGGP)
At 7am on June 9, a passenger van belonging to the Mai Linh Company with registration number 30X-8957 was being driven by Phan Luu on the main route from Buon Me Thuot to Da Nang City when it overturned in Dien Ban District in Quang Nam Province.
Soon after the accident occurred, Mr. Nguyen Ngoc Quang, Vice Chairman of the People's Committee of Quang Nam Province arrived on the scene and directed the authorities to help the injured. He also arrived at the hospital where victims were hospitalized and offered compensation of two million dong to families of the dead and one million dong to each of the injured.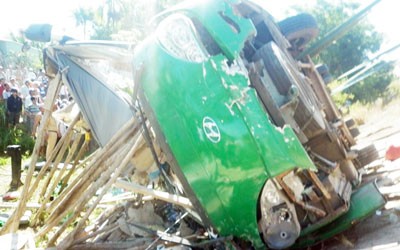 (Photo: SGGP)
Mai Linh Company reported that the accident occurred after the driver of the van tried to avoid a motorcyclist and in the process lost control and overturned.
According to preliminary reports, the passenger van departed with 38 passengers at 17.00 hours on June 8, traveling on the main route from Buon Ma Thuot to Da Nang City. Just prior to the accident one passenger had disembarked enroute, which left 37 passengers to face a terrible fate.