Foreign direct investment (FDI) inflows into Vietnam showed a steep increase in October, reaching US$6.6 billion, according to the Ministry of Planning and Investment.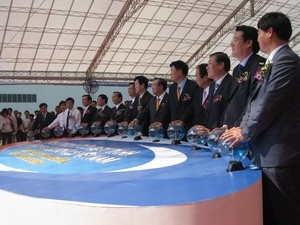 Samsung Eletronics Vietnam opens a US$700 million mobile phone factory in the northern province of Bac Ninh on October 28 (Photo: Vietnam News Agency)
Registered FDI for the year to date now stands at $18.9 billion, while $8 billion has been disbursed, said a report from the ministry's Foreign Investment Department.
In October alone, Vietnam granted investment licenses to 72 projects.
Quang Nam Province is leading the way in issuing investment licenses worth a total of $4.15 billion; followed by Ba Ria-Vung Tau Province and Dong Nai.

Ho Chi Minh City has seen $931 million worth of licenses issued so far this year.
In the first 10 months of the year, 35 countries and territories have invested in Vietnam. The US took the lead with $8.11 billion, followed by Brunei with $2.02 billion and the Cayman Islands with $1.7 billion.
The real estate sector has remained strong, attracting FDI of $5.6 billion for the year to date.
Vietnam is expected to attract $20 billion in 2009 and disburse $10 billion, said the ministry's experts.