Viet Nam has attracted US$5.436 in Foreign Direct Investment (FDI) so far this year, up by 31% against the same period last year, according to the Ministry of Planning and Investment.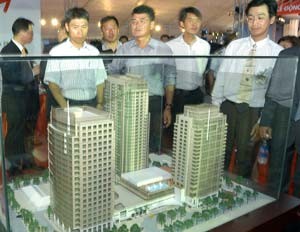 A foreign-invested property project introduced in HCMC (Photo: Minh Tuong)
The ministry's Foreign Investment Department said in a report that 75 new foreign-invested projects with $2.63 billion in combined capital have been licensed in March, bringing the total number of licensed projects in the country so far this year to 147 - worth a total $5.156 billion.
This represents a 36% year-on-year increase in number and 43% in investment capital.
The report says HCMC has taken the lead in attracting FDI, with four foreign-invested projects alone capitalized at $2.08 billion.
Foreign-invested enterprises in the country are estimated to post the first quarter's total revenue at $7.6 billion, up 27% year-on-year. Their export incomes are put at about $5.39 billion, 20% higher than in the same period last year, and import expenditure around $6.1 billion, increasing by 39%. Their tax payments are calculated at $355 million, up 19%.
At present, foreign-invested enterprises are employing almost 1.2 million workers in all, including 12,000 new employees recruited in March alone.