Much public concern has been raised as ferries and boats in the Mekong Delta carrying tourists continue to ignore safety regulations.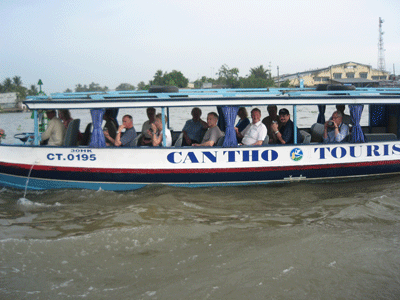 Ferry accidents occur when boat owners ignore safety regulations (Photo: K. Khanh)
Scores of tourists flock to Can Tho City in the Mekong Delta to enjoy an excursion on the boat or chill out on a floating restaurant on the rivers.
For this reason most of the boats are geared to cater only to tourists, yet unfortunately neither the boatmen nor the passengers wear life jackets or are provided ones when they are out on a cruise.
Can Tho residents are still stunned by the sinking of the 'My Khanh' floating restaurant boat last January 8, carrying more than 225 passengers.
Those on board were so panic-stricken that they pushed and elbowed each other; luckily, the boat was anchored close to the shore.
2 people were hurt in the accident and others were rescued. An inspection of the waterway transport system was launched by authorities who discovered that the boat was not even permitted to carry commercial passengers.
Senior lieutenant colonel Nguyen Huu Lap, deputy chief of the River Police Department of Can Tho City said he frets about the boat belonging to the Can Tho Tourism Joint Stock Company in Ninh Kieu Harbor. The 3-storey boat has permission to carry only 300 passengers, while it often loads up to 600 passengers. Moreover, it always leaves the ferry station at night, which now the police are reconsidering, Lap said.
Lap is concerned that the boat always carries more passengers than capacity and the vessel usually cruises on the Hau River at night. The consequences can be very grave if there is an accident.
Other provinces in the Mekong Delta like An Giang, Tien Giang, Vinh Long, Ca Mau and Hau Giang have an abundance of illegal tourist boats. Many tourist boats are just ferries that are used for carrying vegetables and goods. The government seems quite helpless in managing such boats.
Worse still is the fact that most of the accidents occur in these ferry converted boats. In March 2009, a tourist ship cruising on the Can Tho River with 12 foreigners on board visited the Cai Rang Floating Market. Abruptly it rammed into a large loading barge, killing 2 passengers. Later investigation showed that the boat did not have proper registration and the navigator was not even licensed.
Many boat owners invite tourists to cruise on their boat in Ninh Kieu Harbor from VND200,000 on a small boat  to VND400,000 on a large boat, to tour the Cai Rang Floating Market. Tai, an owner of a tourist boat in Ninh Kieu Harbor, said he has to present a license before carrying passengers and his boat is equipped with life jackets, but they are bound firmly under the seats. It is impossible to put them on quickly in case of an accident.
Senior lieutenant colonel Nguyen Huu Lap said police have raised passenger awareness of use of life jackets, but there is no regulation in place for passengers who refuse to wear life jackets on board.
More worrisome, unsafe ferries still carry students to schools in provinces like Ca Mau, An Giang, Hau Giang and Can Tho.
In 2011, river police in Can Tho City fined nearly 4,000 boat owners for disregarding regulations. Most common violations are carrying of more passengers than permitted, having no boat registration or having an expired registration or the owner not possessing a navigation license. The Dong Thap river police also penalized 14,768 boat owners for common violations.
There were 25 ferry accidents in Ca Mau Province in the southern tip of Vietnam last year alone, in which 21 people were killed, 9 injured, an increase of 78.6 percent accidents since 2010, according to   statistics given by the Department of Transport in the province.
Low awareness of river accidents and lax behavior of local governments have resulted in deadly ferry accidents across the country. Boat owners need to be more responsible to bring down the number of waterway accidents on rivers.