The cause of environmental pollution in the past months at Trang Dai ward, Bien Hoa City, has been identified, said the Inspectorate of Dong Nai province's Department of Natural Resources and Environment.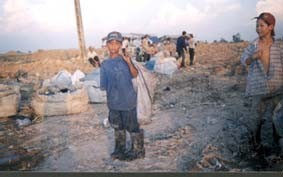 Trang Dai garbage dump, Bien Hoa City
The said pollution resulted from by the fact that Vu Nhut Hong Co., Ltd. had not taken necessary measures to prevent environmental impact caused by its micro-organic fertilizer plant, which was set up about six months ago, said the Inspectorate.
Not all of the waste water discharged by the plant was transmitted to the Trang Dai garbage dump for treatment by Bien Hoa Urban Environmental Service Company.
Instead, the plant released the waste water directly into the environment, causing a serious pollution problem, the inspectorate said.
Meanwhile, the solutions to deal with pollution have been set forth in the report of assessment on environmental impacts that may be caused by this plant.
Equipped with advanced machines and equipment, the VND45-billion (US$2.7 million) plant produces micro-organic fertilizers from waste using a Danish processing technology that meets the European standards.
The plant has a production capacity of 400 tons of fertilizer per day, and it daily receives about 350 tons of unprocessed waste.