The first ever festival to highlight national dishes from Vietnam and the Republic of Korea kicked off at the College of Foreign Languages, National University Hanoi on Nov. 28.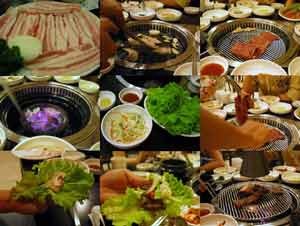 Some Korean dishes
A series of cultural activities, such as drum performances and traditional sports games from the two countries helped to warm up the opening ceremony, which was attended by some 400 youngsters.
The event, which was organized to introduce the unique cultural features of the two nations and raise money for Hanoi residents affected by the recent floods, is expected to attract up to 6,000 young visitors across two days.
The festival is part of a schedule of activities being organized to mark the 16th anniversary of the establishment of the Vietnamese-RoK diplomatic relationship.