Live music concerts, fireworks displays, flower festivals and much festive gaiety marked the end of a year and the beginning of 2012 on Sunday in most of the big cities in the country.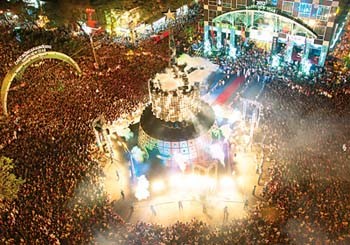 Thousands converged on Nguyen Hue Street in District 1 of HCMC on Sunday to welcome the New Year (Photo: SGGP)
A live music concert on Nguyen Hue Street in District 1 of Ho Chi Minh City, held thousands spellbound on New Year's Eve. A hi-tech revolving two storey stage was fitted with giant LED screens so people could watch the singers and dancers gyrate to the latest pop albums from far across the street.
Fireworks were let off outside the Thu Thiem Tunnel and in Dam Sen Cultural Park in District 11 at midnight of December 31. Several musical performances and entertainment activities were also hosted in the suburban districts.
A flower festival and music performance was organized in downtown areas of Hanoi City, with several residents flocking to the Sword Lake area to enjoy spring melodies, bringing much cheer to freezing temperatures, while waiting for the countdown to welcome the coming New Year.
Thousands of visitors and residents celebrated New Year's Eve with a music festival in Hoi An ancient town in the central province of Quang Nam. The town recorded the arrival of the 1.2nd millionth tourist to the province on December 31.
Meanwhile the Da Lat flower festival opened at Lam Vien Square in Da Lat City in the central highland province of Lam Dong. The opening ceremony was followed by a music program attended by 2,500 artists. The flower festival will last until January 3, 2012. 
Video clip: HCMC and Nha Trang City welcome the New Year


Source: HTV7