A film screening programme to welcome the 11th National Party Congress and Lunar New Year Festival (Tet) will be held nationwide from January 10-20.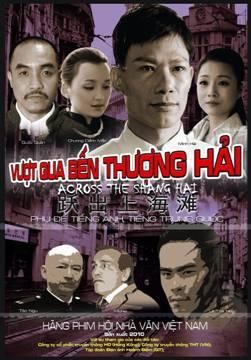 Poster of 'Vuot Qua Ben Thuong Hai' (Across the Shanghai) film
The event, the biggest of its kind, will be highlighted by a film entitled 'Vuot Qua Ben Thuong Hai' (Across the Shanghai) produced by the Vietnam Writers' Association Film Studio. The film portrays the life of Nguyen Ai Quoc in 1934 when he came from Hong Kong to Shanghai to make contact with international revolutionary movement.
The programme will also present a variety of celluloid feature documentary and video films such as 'Tay Son Hao Kiet' (Tay Son Heroes), 'Dung Dot' (Don't Burn), 'Cao Nguyen Da' (Stone Plateau), 'Buoc Ngoat' (The Turning Point) and 'Tuoi Tre Hoang Van Thu' (Hoang Van Thu's Youth).
On the occasion of lunar New Year Festival, a number of newly-produced such as Thien Su 99' (Angel 99), 'Bong Ma Hoc Duong' (School's Ghost) and 'Co Dau Dai Chien' (Bride Wars) will also be introduced.
The programme is jointly held by the Cinematography Department under the Ministry of Culture, Sports and Tourism, Fafilm Vietnam company, National Cinema Centre in co-ordination with cinema companies as well as movie and film publishing centres across the country.