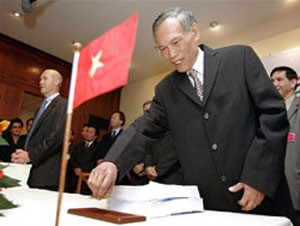 Vietnamese Trade Minister Truong Dinh Tuyen signs a protocol for Viet Nam to join the WTO in Geneva on November 7.
Viet Nam's Ministry of Finance publicized the country's commitments for World Trade Organization membership in the Vietnamese language on Tuesday, one week after the global trade club admitted the nation as its 150th member.
The ministry has put these commitments on its website at www.mof.gov.vn.
According to the WTO, the package of Viet Nam's accession documents consists of the commitments on goods (the 560-page list of tariffs, quotas and ceilings on agricultural subsidies, and in some cases the timetable for phasing in the cuts); the commitments on services (the 60-page document describing in which services it is giving access to foreign service providers and any additional conditions, including limits on foreign ownership); and the working party's 260-page report describing Viet Nam's legal and institutional set up for trade; along with commitments it has made in many of these areas.