The Ministry of Finance handled 136 civil servants and officials in tax, customs and treasury agencies for causing difficulties for residents and businesses in the first six months this year, reported deputy minister Vu Thi Mai at a news conference on Tuesday.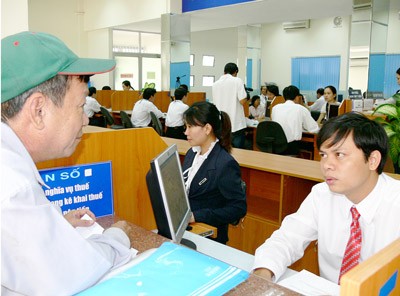 Tax personnel receive a resident in HCMC (Photo: SGGP)
Besides, 2,800 officials with bad attitude at work were rotated from these agencies after 1,500 inspections.
The ministry had drastically instructed relevant agencies to remove civil servants with negative attitude at work, however they have yet to be able to handle all, she said.
Several measures had been applied such as procedure simplification and e-tax declaration and payment, aiming to limit direct contacts between tax payers and officials.
At the meeting, deputy head of the Department of Banking and Financial Institutions Phan Thi Thu Hien reported capital mobilization from Government bonds in the first half.
It reached VND115 trillion (US$5.27 billion), down 23 percent over the same period last year, she said.
The reduction was due to high year on year credit growth rate touching 6.28 percent. The rate was 2.03 percent in the first six months last year.