A fire broke out in an 18-storey building in Cau Giay District in Hanoi, which housed the General Department of Customs, at around 4.00pm yesterday, May 23, leaving hundreds of people trapped inside.
Fire fighters in Cau Giay District immediately rushed to the scene with three fire trucks and seven special vehicles to put out the fire and rescue the people trapped inside.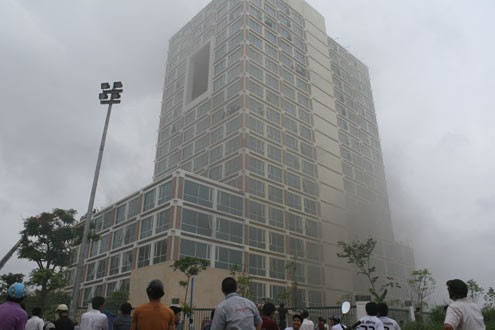 The scene of the fire (Photo: Dan Tri )
By 4.45pm, four more fire trucks were mobilised to the site for additional strength to support the current team and then firemen quickly extinguished the fire by around 5.00pm. No casualties have been reported so far.
Those stranded on floors 5 and 6 were then rescued, but people on higher floors had to wait until the fire was brought under control, to go downstairs.
Authorities were cleaning up the scene to investigate the cause of the fire. Initial investigation found that the fire emanated from a technical room on the 1st floor of the building.
Some witnesses said that welding work on the garbage disposal unit in the basement was the main cause of the fire.