Fire broke out yesterday afternoon on the 7th floor of a 72-storey building under construction in Hanoi, due to negligence on the part of workers installing air-conditioners, though no loss of lives was reported from the fire.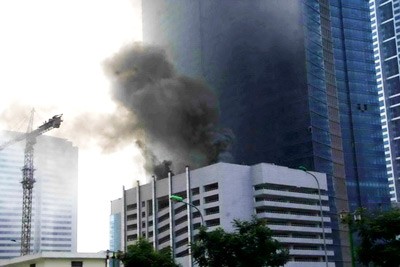 Smoke billowing out from the fire in Keangnam Tower building (Photo: SGGP)
Fire fighters managed to extinguish the flames it a little over 30 minutes, though the ongoing construction hindered the fire trucks from accessing the fire site.
According to initial information, the fire broke out on the 7th floor of the Keangnam Tower in Hanoi, the tallest building in Vietnam, and totally damaged three air-conditioners worth VND1 billion (US$47.000) each.
Construction of Keangnam Tower, a major investment by the Keangnam Group of South Korea, began in March 2007 and within the last two years three fires have already broken out while constructing the building.