A huge fire burnt down two warehouses in Thu Duc District in Ho Chi Minh City on November 28.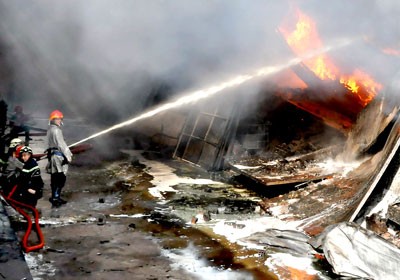 Fire fighters trying to douse the leaping flames in the warehouses in Thu Duc District (Photo: SGGP)
The fire erupted in the warehouses of Xanh Logistics Company on National Highway 1A in Thu Duc District of HCMC. The warehouses were piled with chemicals which quickly caught fire.
More than 200 firefighters from stations in Districts 2, 9 and Binh Thanh and 20 fire trucks arrived at the scene.
Fire fighters from the southern province of Binh Duong and Linh Trung Export Processing Zone also lent support in putting out the huge fire.
By 4pm the huge blaze was brought under control which ultimately devastated 2,000 square meters of 2,600 square meters of the warehouses. Total damages are currently estimated at around ten billion dong.
In related news, a passenger coach enroute from HCMC to Phnom Penh burst into flames at 9am on November 28 while traveling on Truong Chinh Street in Tan Binh District. Passerby drivers noticed the flames and informed the coach driver who quickly stopped the coach and rushed to evacuate passengers from the vehicle.
Local residents living around the area used mini fire extinguishers to put out the fire but failed to control the giant leaping flames.
Fire fighters from Tan Phu Fire Station arrived at the scene and were able to control the fire after 15 minutes. No loss to human life was reported but the traffic gridlock along Truong Chinh Street lasted several hours.