Forest fires are worse as several new infernos flared up at different zones of Tram Chim National Park in Dong Thap Province.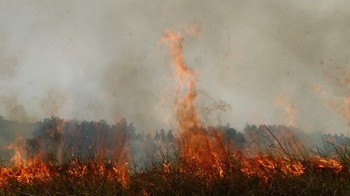 Fires continue to rage at Tram Chim National Park in Dong Thap Province on April 27 (Photo: Tuoi Tre)
The national park, which is located in the Mekong Delta province's Tam Nong District, catched fires on April 25 and turned worse when fires have spread through four of the park's zones.
On Tuesday evening, after the flares were got under control at A2 area, they continued blazing up at A1 area in Phu Hiep Commune, home of the fire on April 25.
The fire extinguishing including hundreds of soldiers and police officials together with pumping machines and other facilities can not control the fires.
Nguyen Van Duong, deputy chairman of Dong Thap Province's People's Committee said the fire extinguishing faced many difficulties as the prolonged fire occurred at different areas and far from water sources.
A total of 262 hectares of cajuput forest and grassland had been burned down by the fires on April 25 and 26 alone.
The national park has become home to 130 species classified into 6 principle communities including hundreds of red-crowned cranes that are recorded in the Red Book
In related news, the Mekong Delta saw another fire flared up through a vast cajuput forest of U Minh Ha National Park in utmost southern province of Ca Mau on Tuesday afternoon .
The fire was put out on late evening the same day.
According to Ca Mau Province's Department of Agriculture and Rural Development, since the dry season, which began in the end of 2009, the U Minh Ha cajuput forest have experienced dozens of fires.
Related article:
Hot, dry weather fuels delta forest fires