Following a sudden loud explosion, a fire engulfed the Theodore Alexander Furniture Company at the Linh Trung Export Processing Zone in Thu Duc District of Ho Chi Minh City on January 9.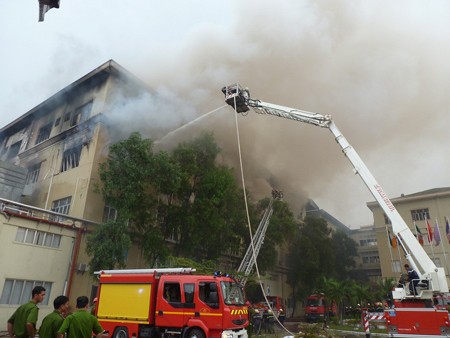 The fire at the Theodore Alexander Furniture Company in Thu Duc District of HCMC on January 9 (Photo: SGGP)
The fire spread rapidly while thousands of workers were having lunch. All of them were able to evacuate the premises in time.
According to initial information, the fire flared up from a short circuit in an area containing chemicals and wooden material and then spread to adjacent areas.
The City fire brigade had to mobilize 44 fire trucks to the scene and bring in more firefighters from the neighboring province of Binh Duong to lend a hand. The huge inferno became difficult to handle as the place was full of highly inflammable materials.
By 3pm, rain rolled in and somewhat helped in dousing the fire, which was brought under control in just under an hour.
The fire caused no human casualties but burnt down 15,000 square meters of factory space. The firefighters were successful in protecting the remaining 74,000 square meters of the factory from the fire.