A huge fire caused serious burn injuries to 21 workers in the Duc Tam Wood Furniture Company in Vinh Cuu District in the southern province of Dong Nai on Tuesday afternoon, with several workers still in critical condition in Cho Ray Hospital in Ho Chi Minh City.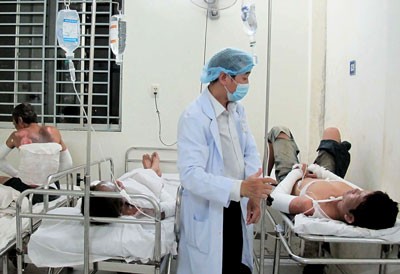 Workers being treated at Cho Ray Hospital in HCMC (Photo: SGGP)
Forty firefighters arrived in two trucks to stamp out the fire, which ignited in sawdust lying in the workshop area.
When firefighters sprayed the workshop with water, sawdust blew all over to engulf the entire factory area.
After receiving first aid in Thong Nhat General Hospital in HCMC, some of the 21 workers were released but 16 of the severely critical cases were transferred to Cho Ray Hospital for further treatment.